Before and after: A see-saw landslide topples a mountaintop climbing landmark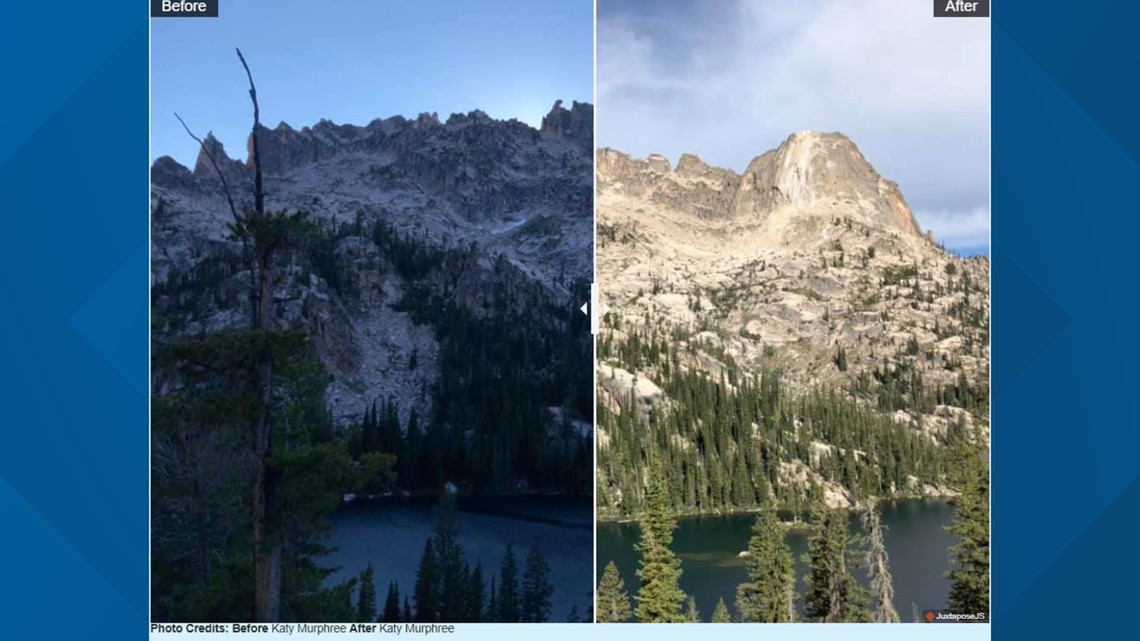 "The whole spire collapsed." Use KTVB's interactive slider to see the damage after Friday's magnitude 4.2 earthquake near Stanley.
STANLEY, Idaho — A dramatic landslide in the Sawtooth Range mountains filmed Friday night has seemingly obliterated a rock climbing landmark in Idaho.
Backpacker Katy Murphree and her boyfriend were camping along Baron Lakes that night and witnessed the collapse and destruction of Baron Spire.
"I've never seen anything like this before," she told KTVB. "I felt it, I looked at it and I shouted: 'Earthquake!' and then just then we heard what sounded like an explosion it was the loudest explosion i have ever heard and we look over a commercial the top of the mountain is going to collapse.
Murphree said there were a few moments of pure panic before the dust settled.
"Finally when the dust settled you could hear people screaming back and forth it's okay we couldn't tell where they were we just knew there were people out there somewhere we knew they were safe and okay," she recalled.
The rockslide narrowly missed a busy campsite, Murphree added.
"They were right below the boom that fell and rolled over, but the rockslide went either side of them and completely missed their campsite," she said.
Baron Spire, which SummitPost.org describes as one of Idaho's toughest climbs, was toppled in the landslide.
"The whole spire collapsed with half the face of the wall," Murphree wrote in her Facebook post. "It happened around 8:10 p.m. so it was very difficult to fall asleep afterwards, to say the least!"
She added that there were campers in the area but no one was injured.
Baron Spire is also known as Old Smoothie, according to the Mountain Project. The first to climb the summit were Fred Beckey, Pete Schoening and Jack Schwabland in 1949.
The spire was named Old Smoothie because the top is a single 120-foot-tall granite boulder that had virtually no cracks.
"It's a favorite among climbers in the area. Supposedly there were several groups there who had already climbed it or were going the next day, which is just crazy to think," Murphree said. .
RELATED: Magnitude 4.2 earthquake hits near Stanley
RELATED: 4.2 earthquake near Stanley causes sawtooth landslide
RELATED: Stanley Lake Inlet Beach Collapsed After Magnitude 6.5 Earthquake in March