Ministry holds 2022 Climbing World Cup in Jakarta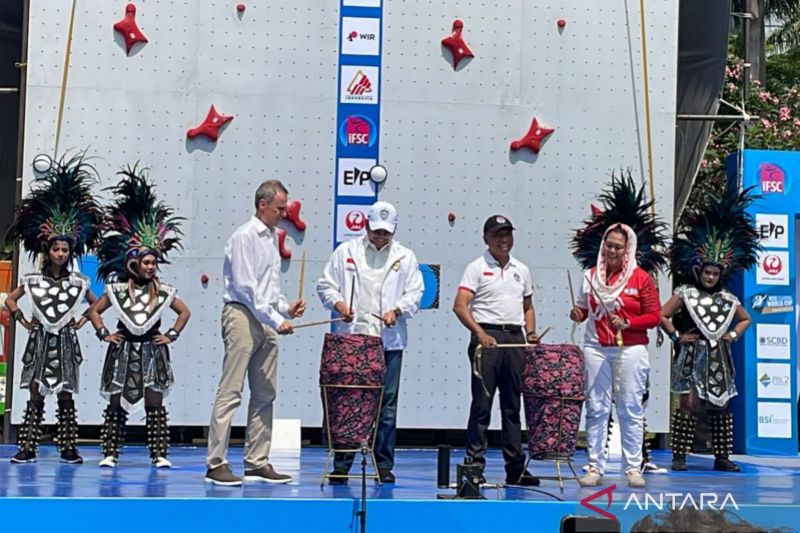 We hope that in the future, we can win medals at the Paris 2024 Olympics
Jakarta (ANTARA) – Youth and Sports Minister Zainudin Amali officiated the International Sport Climbing Federation Jakarta World Cup 2022 at Lot 16-17 SCBD here on Saturday.
Amali congratulated the Indonesian Climbing Federation (FPTI), led by Yenny Wahid, for being able to host this prestigious event in Indonesia.
"Today was great. Our long-awaited dream has just come true to be able to host the Climbing World Cup. I congratulate FPTI as Indonesia is finally able to organize an event of this magnitude", said he asserted.
As the leading sport in the grand conception of national sports, Amali expects Indonesian athletes to achieve the best results and break the current world record set by red and white athlete, Kiromal Katibin, of 5.00 seconds for the male speed number.
"Let's hope that our record and our world championship will be maintained, and we can break the record at this event. We hope that in the future, we can win medals at the Paris Olympics in 2024," Amali added. .
On the same occasion, the general president of the Indonesian Climbing Federation, Yenny Wahid, said that this event could be organized after a long wait.
"After waiting for years, finally an international climbing event can be held in Indonesia. Today hundreds of athletes from 27 countries gathered in Indonesia. The athletes will compete for the medals which have been prepared and to show the world that we are all going to climb even higher, faster and stronger," she said.
Based on the data from the federation, Indonesia sent 42 athletes, including 22 sprint athletes and 20 main athletes, including 12 men and 10 women in the speed category, and 10 men and 10 women in the main category.
Among the number of athletes who competed, two Indonesian athletes, Kiromal Katibin and Veddriq Leonardo, managed to secure the position of grand champion in the speed category for the 2022 World Cup in Jakarta which was the closing series of the 2022 Climbing World Cup in the speed category.
The two athletes were ranked first and second in the provisional 2022 World Cup rankings in speed count, according to data from the International Climbing Federation.
Leonardo, who became the grand champion of the men's speed edition last year, topped the standings with 3,910 points, followed by Katibin in second place, with 3,275 points.
If Leonardo or Katibin managed to be the fastest in the championship coming to Jakarta, they would get an extra thousand points and secure the overall 2022 World Cup men's sprint title.
Their chances of becoming grand champions could only be lessened if Spanish representative Erik Noya Cardona later became the Jakarta Series champion.
Related News: Jakarta Environment Bureau confirms staff have been trained in rock climbing
Related News: Raharjati Nursyamsa Breaks Veddriq Leonardo's World Climbing Record